Laptop Keyboard Replacement
Are you having problems with your laptop or notebook computer keyboard? Some character pieces dropped off the keyboard or accidentally spilled water onto your keyboard?
One of the important components of a laptop is the keyboard. It can be very frustrating especially when the laptop keyboard fails to work or function normally while typing.
The most common reason to need a new laptop keyboard is liquid damage. Another reason may be a missing key (or 20 missing keys!). If you've spilt something in your keyboard or even if your child thought it'd be a good idea to remove all of your laptop keys, we can help! Call Sam : O88.888.3385
No matter which keys are falling from your laptop's keyboard or accidental liquid spillage, we can provide superb service to fix your laptop keyboard and would return it you in top running condition.
Our laptop repair team will here to diagnose your laptop keyboard's damage level first before sending it back to our office for repair, and return back to you with full keyboard function in a few days.
If you are wondering whether we can fix Apple Macbook, Dell, Asus, HP, Lenovo, Sony, Acer, Toshiba, Fujitsu, Samsung, Acer, Compaq, Alienware, IBM etc.. Yes we have fixed them all before.
Feel free to contact us at our hotline at : O88.888.3385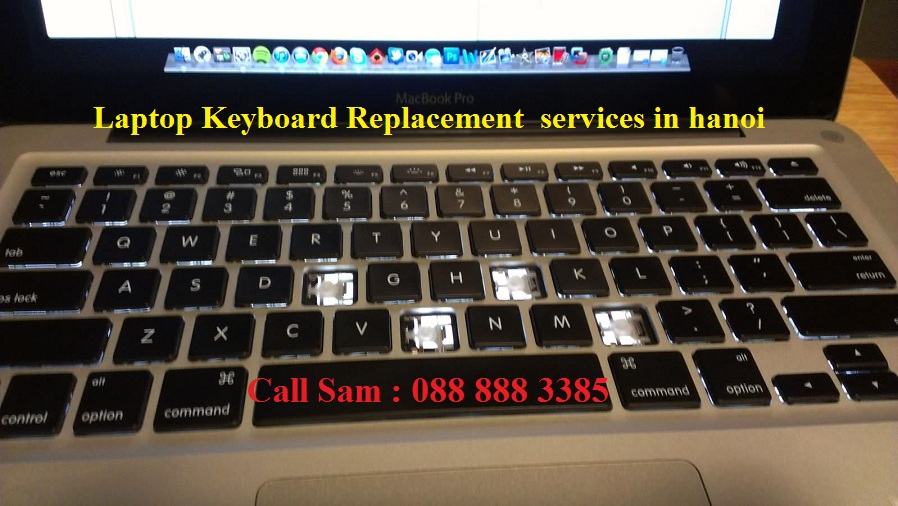 Here are a few highlights for our keyboard replacement service:
Repair or Replacement?
A lot of people want to know if their laptop keyboard can be repaired instead of replaced. Most of the time, even if you're missing a single key, the entire keyboard needs to be replaced. There are exceptions to this rule though, and if you'd like to see if we can fix an individual key for you, we'd have be happy to look at it and check it out!
Do you stock keyboards?
We do! We stock several common keyboard models, but not all of them. Even if we don't have your keyboard in stock, we can order the part and it should only take a few days to arrive. But don't fret, we can offer you a loaner USB keyboard while you wait!
Laptop Screen Replacement
It depends. Some keyboards are simple and straightforward to replace, while others may be integrated with the palm rest. We're professionals, and we'd rather not give you pricing that we can't 100% guarantee, that's why we offer free estimates! Bring your laptop by and we'll take a look at your keyboard!
How long does it take?
Some laptop keyboard replacements can be done on the spot, while you wait! Others are more involved and can take 1-2 days. If turnaround is a concern, we'll be happy to discuss any RUSH options you may need!
We know that keyboard failures come in all shapes and sizes. If you'd like more information about this service, don't hesitate to contact us! Feel free to give us a call or fill out our Ask a Question form and one of our trained managers will be happy to help!